(moved from "Canon Powershot A3300 IS")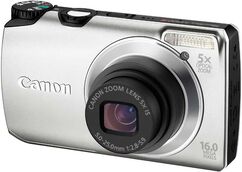 So I bought this camera as I had a belief in getting all the manual control over it. Otherwise, it is not a Powershot if I do not have the full power to customize my shot. Search for a custom firmware landed me here to find out that none has played with it. I need some (including me) to get started with it. Let's unleash the true potential of this slim camera. I lack the knowledge about starting the custom firmware programming. Any directions?
Missing "Firmware Update" Option
Okay, so I'm trying to use CHDK with this camera, and I'm stuck. I've got the files on the SD card, and I go to select the "firm update" option on the camera... and it isn't there. I started it in playback mode, I've tried it with and without the SD card in, and the option just isn't there. Any ideas?
Jacobthejones (talk) 22:44, December 25, 2012 (UTC)