Canon IXUS 85 IS / Powershot SD770 IS / IXY Digital 25 IS
| | |
| --- | --- |
| | CHDK is available for the SD770/IXUS85 with firmware version 1.00a from the Download page |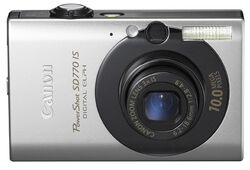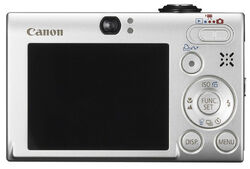 Reviews: DCRP Review, DPReview, Steve's DigiCams, Imagin Resource, DigitalCameraReview.com
Technical data
Edit
| | |
| --- | --- |
| Image Processor: | DIGIC III, iSAPS, 9-point AiAF |
| Image Sensor: | 10 MP, 10.0 million effective pixels, 1/2.3-inch CCD type |
| OS: | DryOS operating system |
| Lens: | 3x optical zoom, F/2.8 - F/4.9 (35mm film equivalent: 35-105 mm) |
| Display: | 2.5 inch TFT, 230,000 pixels |
| Storage: | SD / SDHC / MMC |
| Power: | NB-6L Lithium-ion rechargeable battery |
| Dimensions: | 3.39 x 2.13 x 0.80 inches - 86.0 x 54.0 x 20.4 millimeters. |
| Release Date: | March, 2008. |
| ISO: | 80 to 1600 |
Version information
Edit
Created ver.req (responds to either ver.req or vers.req), then pressed FUNCSET and DISP simultaneously:

Canon PowerShot SD770 IS / DIGITAL IXUS 85 IS
P-ID:3175  NT D / PAL D

Firmware Ver GM1.00A
NoError
Jan 31 2008 13:20:56

Pressing DISP once again with FUNCSET still pressed:


Adj Ver.005.009

Pressing DISP a third again with FUNCSET still pressed (result varies depending on whether ver.req or vers.req is used):

IS Firm Ver. 2.04
IS Param Ver. 2.03

For Developers
Edit
Firmware dumps
Edit
Seems identical to ixus80_sd1100
// from FF8E99E4
#define LED_PWR    0xc02200d0
#define LED_PR     0xc02200d4
#define LED_ORANGE 0xc0220130
#define LED_GREEN  0xc0220134
#define LED_YELLOW 0xc0220138
#define LED_AF     0xc0223030

Ad blocker interference detected!
Wikia is a free-to-use site that makes money from advertising. We have a modified experience for viewers using ad blockers

Wikia is not accessible if you've made further modifications. Remove the custom ad blocker rule(s) and the page will load as expected.