Ad blocker interference detected!
Wikia is a free-to-use site that makes money from advertising. We have a modified experience for viewers using ad blockers

Wikia is not accessible if you've made further modifications. Remove the custom ad blocker rule(s) and the page will load as expected.
The Canon PowerShot SD430 DIGITAL ELPH called the DIGITAL IXUS Wireless in europe, and IXY DIGITAL Wireless in japan, is one of the cameras in the IXUS family
| | |
| --- | --- |
| | A Beta build is available for firmware 1.10A from the Download page. All CHDK features are fully functional, but currently it contains no specifically Wireless related enhancements. Use the Porting thread for questions and bug reports. |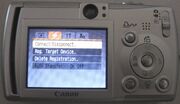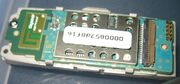 Reviews and Specifications
Edit
Technical data
Edit
DIGIC II image processor
vxworks OS
5.0 megapixel CCD
2.0-inch color TFT monitor
35-105mm (equiv.) F2.8 - 4.9, 3x optical zoom
640 x 480 movies at 30fps
Custom white balance
Spot, center-weighted and evaluative metering
9-point AiAF
Wi-Fi IEEE 802.11b - NOTE: Canon specific - requires additional Canon software on PC or MAC
Firmware
Edit
Created ver.req in the root of SD card, then pressed FUNCSET and DISP simultaneously:

Canon DIGITAL IXUS WIRELESS
P-ID:30F1 PAL

Firmware  Ver GM1.00F
No error
Dec 19 2005   21:32:29

Additional press shows..

Adj Ver..004.003
Total Shoot: 231
Open Shutter:0 
Closed Shutter:0

Similarly for the later Ver 1.10A (the latest available from the Canon US site at the time of writing).

Canon DIGITAL IXUS WIRELESS
P-ID:30F1 PAL

Firmware  Ver GM1.10A
No error
Apr 24 2006   17:08:09

Additional press shows.

Adj Ver..004.003

Apr 24 2006   17:08:09

3rd press shows shooting info.

Adj Ver..004.003
Total Shoot: 235
Open Shutter:0 
Closed Shutter:0

For developers
Edit
LED addresses
Edit
 0xC0220088  Blue   - Wireless Enable LED 
 0xC02200B0  Yellow - Focus status beside viewfinder LED
 0xC02200B5  Blue   - Print LED
 0xC02200BF         - Focus Assist LAMP (Ultrabright LED on front of camera)

Firmware dumps
Edit
Firmware versions 1.00f and 1.10a have been dumped
Porting thread
here
.
Canon firmware updates
Edit
| | |
| --- | --- |
| | This section describes the procedure to update the camera with a permanent Canon firmware update - do it on your own risk ! |
NOTE: Upgrading from 1.00f to 1.10a was performed on a Linux box (Ubuntu 11.10 )
If you decide to try this, you do so entirely at your own risk !
The procedure is as folows:
Obtain the firmware from Canon via their support pages, the exact version will depend on what is available and possibly which country you are in. For the main site in Japan you could try here: http://web.canon.jp/imaging/ixusw/frm-e.html
Enter your serial number (for example 2331004974 ) and click the "I Agree" button.
On the next page, select the Windows updater, ixusw_firm_win-e.exe and download it.
Once downloaded, open with File Roller (which can extract the contents of Windows Executables, sudo apt-get install file-roller if you dont have it), and extract just the file named IXY_WiFi.FIR
Rename the extracted file as PS.FIR and copy to the root of your SD card. Now power up the camera in playback mode, and use the "Firm Update" menu item to upgrade the firmare.