PowerShot S2 IS
The Canon PowerShot S2 IS is a 5.0 megapixel digital camera, released in 2005.
| | |
| --- | --- |
| | CHDK is available for the PowerShot S2 with firmware version 1.00e, 1.00f, 1.00g and 1.00i (with CHDK version for 1.00g). |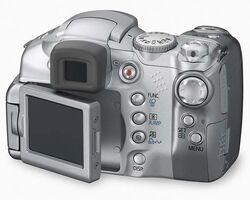 Reviews and Specifications
Technical Data
12X optical zoom lens
DIGIC II image processor
VxWorks operating system
1.8" LCD display
Stereo sound recording
USB 2.0 High Speed support
Note about the different Firmwares
Cameras with the 1.00i firmware can/must use the CHDK version for 1.00g - the autobuild already just copies this, so when you have a 1.00i cam you will find YOUR version in the autobuild.
Napomena o različitim Firmwares
Fotoaparati s 1.00i firmware može / mora koristiti CHDK verziju za 1.00g - autobuild već samo kopira ovu, pa kad imate 1.00i cam ćete naći svoju verziju u autobuild.
Development is happening in the 1.00g tree, then compiled and just renamed for the 1.00i people.
razvoj se događa u 1.00g stabla, a zatim sastavio i samo preimenovan u 1.00i ljudi.