Ad blocker interference detected!
Wikia is a free-to-use site that makes money from advertising. We have a modified experience for viewers using ad blockers

Wikia is not accessible if you've made further modifications. Remove the custom ad blocker rule(s) and the page will load as expected.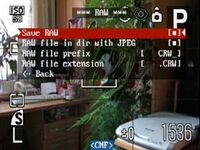 A proposito del formato RAW
Edit
Per produrre immagini corrette per l'occhio umano, l'immagine catturata dal sensore (che può essere un Charge-Coupled Device (CCD) oppure Complementary Metal–Oxide–Semiconductor (CMOS)) viene automaticamente trattata dalle fotocamere in modo da produrre una nuova immagine con luminosità e colori naturali per l'occhio umano di chi la guarda, e questo è il file JPEG che verrà salvato dalla fotocamera.
CHDK è in grado di salvare anche l'immagine originale (il formato RAW), non ancora elaborata dalla fotocamera, in modo che sia utilizzabile da chi lo desidera.
Abilitare il formato RAW
Edit
Passare alla modalità

Record

.
Premere

Alt

.
Premere

Menu

Evidenziare Save RAW.
Premere

FUNC SET

and you'll see this [•]
Premere

Alt

for exit.
Il display visualizzerà RAW ed un numero che indica quanti file RAW possono essere salvati nello spazio ancora libero della scheda SD.
Noterete che il numero di file RAW è molto inferiore al numero di file JPEG poiché il formato RAW non è compresso (a differenza del formato JPEG).
CHDK RAW nel mondo realeEdit
CHDK produce file RAW in formato non standard, a 10 bit. Pochi programmi commerciali supportano già questo formato, ma potete sempre convertire i vostri file CHDK_RAW i file standard DNG o TIFF usando questi programmi: DNG4PS-2 e leggendo DNG4PS2 per ulteriori informazioni. Se non avete ancora preferenze, date un'occhiata a PhotoLine : supporta già i file CHDK_RAW. Sono stati ottenuti buoni risultati con Raw Therapee and UFRaw
Altri collegamenti:
---