Diese Anleitung demonstriert, wie mittels eines Diskeditors eine Speicherkarte als CHDK-bootfähig gekennzeichnet wird
| | |
| --- | --- |
| | Der bevorzugte, einfachste und sicherste Weg um eine SD Karte mit dem BOOTDISK Kenzeichen zu versehen und somit CHDK Autoboot-fähig zu machen ist CardTricks ! |

unter linux geht's auch weniger umstaendlich:
"BOOTDISK" an offset 64 (dezimal) des dateisystems schreiben:
dd of=/dev/sdX1 bs=1 count=8 seek=64 <<<BOOTDISK

wobei sdX das device der SD-karte ist. ansonsten unter windows...
Hier eine kurze Anleitung, um eine SD-Karte per Diskeditor als CHDK-bootable zu markieren:
1) Benötigt wird HxD: ein guter Freeware Hex-Editor mit eingebauter Diskeditor - Funtionalität
Hier kann die portable Version von HxD (ohne Installation, einfach in einen Ordner entpacken & starten) heruntergeladen werden: HxD portable
2) Speicherkarte in den Kartenleser einlegen, alle anderen Wechselmedien und USB-Sticks etc. entfernen
3) HxD starten, "Extras" - "Datenträger öffnen" wählen, Laufwerk auswählen, Häkchen bei "schreibgeschützt öffnen" entfernen

4) auf der Karte (Laufwerksbuchstabe beachten !) im Sektor 0 ab Offset 40   bootdisk   eintragen (rechte Spalte, in Großbuchstaben):

5) Der geänderte Bereich wird Rot angezeigt, nun die Änderung abspeichern...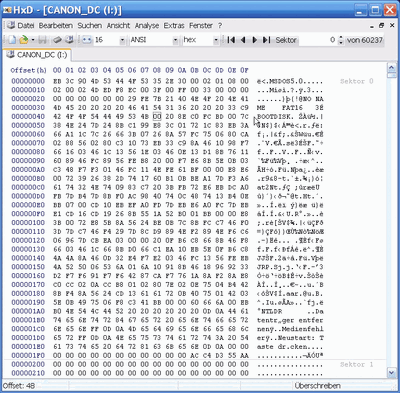 Ad blocker interference detected!
Wikia is a free-to-use site that makes money from advertising. We have a modified experience for viewers using ad blockers

Wikia is not accessible if you've made further modifications. Remove the custom ad blocker rule(s) and the page will load as expected.