Ad blocker interference detected!
Wikia is a free-to-use site that makes money from advertising. We have a modified experience for viewers using ad blockers

Wikia is not accessible if you've made further modifications. Remove the custom ad blocker rule(s) and the page will load as expected.
Powershot A580
| | |
| --- | --- |
| | CHDK is available for the A580 with firmware version 1.01B and 1.00C from the Download page |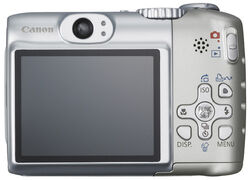 Reviews:
Technical data
Edit
Digic III image processor
DryOS operating system
Sensor: 8.0 MP, 1/2.5 inch CCD type
Lens: 5.8 - 23.2mm, F/2.6 - F/5.5 (35mm film equivalent: 35-140mm), 4x optical zoom
Display: 2.5 inch fixed, 115,000 pixels
Real-image optical zoom viewfinder
Storage: SD / SDHC / MMC
Movie recording: 640x480 (20 fps/20 fps LP), 320x240 (30 fps), up to 4GB or 60 minutes
Power: 2 x AA size batteries
Dimensions: 3.71 x 2.55 x 1.61 inch (94.3 x 64.7 x 40.8 mm), Weight: 175g (6.17 oz.)
Firmware info
Edit
Firmware information is given if vers.req exists on the SD.
In PLAY mode (with vers.req) press FUNCSET and DISP simultaneously:

 Canon PowerShot A580
 P-ID:3177  PAL D
 
 Firmware Ver GM1.00C
 E16
 Jan  8 2008   17:01:40

subsequent press of DISP (while still holding FUNCSET) reveals:

 Canon PowerShot A580
 P-ID:3177 PAL D
 
 Adj Ver.011.001
 CcdFifo
 2008.10.16 21:56:10

subsequent press of DISP (while still holding FUNCSET) reveals:

 Canon PowerShot A580
 P-ID:3177 PAL D
 
 Adj Ver.011.001
 Total Shoot  :49
 Open Shutter :0
 Close Shutter:0

CHDK specialities
Edit
Extra long exposures >64s are supported
The <ALT> button is adjustable from the CHDK menu
Half Shutter + Left - Sets AFL
Half Shutter + Right - Show OSD (On / Off)
Half Shutter + Up - Sets AEL
Half Shutter + Down - Disable overrides (Yes / No)
Half Shutter + Menu - Show Live Histogram (Don't / Always / Shoot)
Half Shutter + Display - Draw Zebra (On / Off)
Display - Save RAW (DNG /Off)
Up - Manual Focus (On / Off)
Display - Sets Infinity Focus
Down - Sets HyperFocal Focus
For developers
Edit
The A580 uses the d3enc diskboot encoding flavour
Firmware dumps
Edit
Both firmwares were dumped using CardTricks 1.41 with "NewDryOs" method
LED addresses
Edit
0xC02200C4  // Direct Print (blue)

Porting process
Edit