Ad blocker interference detected!
Wikia is a free-to-use site that makes money from advertising. We have a modified experience for viewers using ad blockers

Wikia is not accessible if you've made further modifications. Remove the custom ad blocker rule(s) and the page will load as expected.
| | |
| --- | --- |
| | CHDK for the A495 firmwares 1.00d, 1.00e & 1.00f are available in a Beta version from the CHDK Autobuild Server |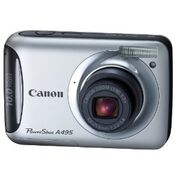 Technical Data
Edit
Digic III image processor
DryOS operating system
Announced: Jan 5, 2010 
Firmware info
Edit
DISCLAIMER: None of the known methods for retrieving the firmware information seem to work for this camera model. You may have to just try installing each option until you find one that works.
As of 2012-06-19, the ACID tool worked on my A495 (firmware of 1.00e).
CHDK Specialties
Edit
This section describes special CHDK-related things...
extra long exposures (tested 256 seconds but probably up to ~2000 seconds like for A480)
For Developers
Edit
General info:
LED addresses
Edit

0xC0220088 Green state LED
0xC0220080 AF LED

Params Table
Edit
#
Description
Value
3
EXIF Make (Camera Manufacturer)
Canon
4
EXIF Model (Camera Model)
Canon PowerShot A495
5
Text
Comment
8
16 bytes config?

byte 0 : Video System : 0x00=NTSC/ 0x01=PAL

byte 1 : Language : 0x00=English ... 0x06=Italiano ... 0x09=Spanish ...

10
Shutter Volume
0-5
12
Start-up Volume
0-5
13
Operation Volume
0-5
14
Selftimer Volume
0-5
16
Text
CANON_DC
22
Create Folder

0x800=Daily / 0x900=Monthly

24
Start-up Image
0x00=Off / 0x01=On
35
Slideshow: Repeat
0x00=Off / 0x01=On
36
Slideshow: Play Time
0=3s, 1=4s, 2=5s, 3=6s, 4=7s, 5=8s, 6=9s, 7=10s, 8=15s, 9=30s
37
Print Settings: Print Type
0x01=Standard, 0x02=Index, 0x03=Both
38
Print Settings: Date
0x00=Off / 0x01=On
39
Print Settings: File No.
0x00=Off / 0x01=On
46
Transition
0x00=Off, 0x01=Fade, 0x02=Slide
47
Slideshow: Effect
0x00=Off, 0x01=Fade, 0x02=Slide
50
Print Settings: Clear DPOF data
0x00=Off / 0
59
Info Display
0=Off, 1=Standard, 2=Detailed, 3=Focus Check
75
Power Saving: Display Off (seconds)
10, 20, 30, 60, 120, 180
112
Lens retract (seconds)
0, 60
Available firmware dumps
Edit
A495 firmware versions 1.00d , 1.00e , 1.00f
Porting process & links
Edit