Ad blocker interference detected!
Wikia is a free-to-use site that makes money from advertising. We have a modified experience for viewers using ad blockers

Wikia is not accessible if you've made further modifications. Remove the custom ad blocker rule(s) and the page will load as expected.
Canon Powershot A1100 IS
The Powershot A1100 IS was released on February 17, 2009
| | |
| --- | --- |
| | CHDK is available as beta version for the Powershot A1100 with firmware 1.00B and 1.00C from the Download page. A test release is available for cameras with 1.00A firmware version in the forum. |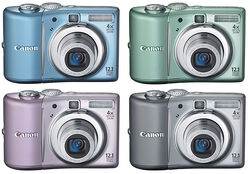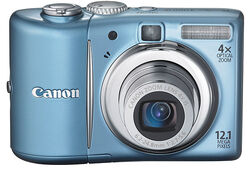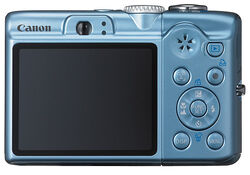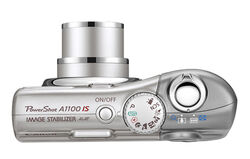 Reviews and Specifications
Edit
Technical Data
Edit
Digic IV image processor
DryOS operating system
Sensor: 12.1 million effective pixels, 1/2.3 CCD (6.16 x 4.62 mm, 0.28 cm²), 43 MP/cm² Pixel Density
Max image size: 4000 x 3000
4x optical zoom lens 35-140mm (35mm equiv), F2.7 - F5.6, Image stabilization
2.5 inch LCD, 115,000 pixels
ISO 80-1600
Standard Definition Movie Recording: 640 x 480 (30 fps), 320 x 240 (30 fps)
Power: Two AA batteries
Weight (without batteries): 155 g (5.47 oz), Dimensions: 95.4 x 62.4 x 31.0mm (3.76 x 2.46 x 1.22 in)
Firmware info
Edit
The ver.req file is used to retrieve firmware information from the camera.
After holding down FUNCSET then press

:
Canon PowerShot A1100 IS
P-ID:31C3 PAL D

FirmWare Ver GM1.00A
NoError
Dec 8 2008 13:19:46

Subsequent press of

(while still holding FUNCSET) reveals:
Adj Ver.004.010

Another press of

(while still holding FUNCSET) brings up this:
IS Firm Ver. 2.11
IS Param Ver. 2.07

And another press of

(while still holding FUNCSET) brings up this:
Driver Info: 0x00000000

CHDK specialities
Edit
For Developers
Edit
LED addresses
Edit
#define LED_DP   0xC02200CC    // direct-print (blue)
#define LED_FLASH 0xC02200D8    // Triggers flash
#define LED_AF   0xC02200DC    // Auto-focus LED

Available firmware dumps
Edit
Firmware 1.00A (by Timich, dumped with CBasic udumper)
Firmware 1.00B (not available)
Firmware 1.00C (blinked out by dch24, pawitp did it again later)